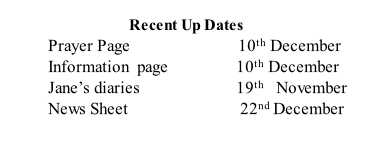 Welcome to the March edition of 'News, Views & Prayer'
The world has been plunged into a crisis that many of us will not have experienced, and one which will change our world. Our thoughts, prayers and love go out to the people of Ukraine as they are engulfed in a war which was unnecessary and vindictive. Another dictator once thought to rule the world, and was defeated.
Since the end of the second world war we have had relative peace in Europe. It is therefore unbelievable that in a matter weeks we could come this. We are now into day five of the fighting and the EU have at last instigated sanctions that will, we hope: limit Russia's capability to win the war.
We pray for the men both military and civilian who are valiantly fighting for their country and for freedom.. We are horrified that their families are becoming refuges in neighbouring countries and we give thanks that the counties of the EU have stepped up to support these people.
The Baptist Union are active in Ukraine and I have sent information in two formats for you see.